12 Days of Elliott
We're feeling the holiday spirit.
December 1-12, we're giving away a dozen of our best resources to all subscribers and Club EWI members, a different one each day. We call it the 12 Days of Elliott.
Each of the gifts is a resource that people pay good money for. But during this special time of the year, we're giving them away to people who want change. By day 13, you'll have the Elliott wave tools you need to help you approach your investment choices with a new level of understanding and confidence.
All 12 gifts will be kept a secret until they are unlocked on their respective day, but rest assured — whether you're a trader or investor — this event will be well worth your while.
For over 40 years, our subscribers have trusted us to guide them
through economic, financial and social uncertainty.
Elliott Wave International is the world's largest independent financial and social forecasting firm.
Selected for You
Featured Events and Free Commentary
Our Latest Commentary
EWI's One-of-a-Kind Take on the World. See even more
European Stocks: Lots and Lots of Optimism
Well, of course, there's lots of optimism, you might say – it's holiday season! That's true but as market forecasters we track hard measures of market optimism and compare them over time. Watch monthly Global Market Perspective contributor Brian Whitmer explain some of the sentiment readings in Europe right now.
Analysis for Investors
I Want to Protect My Money & My Portfolio Plus Squeeze All I Can from the Waves
U.S. Markets
I need forecasts for U.S. markets from the flagship Financial Forecast Service.
European Markets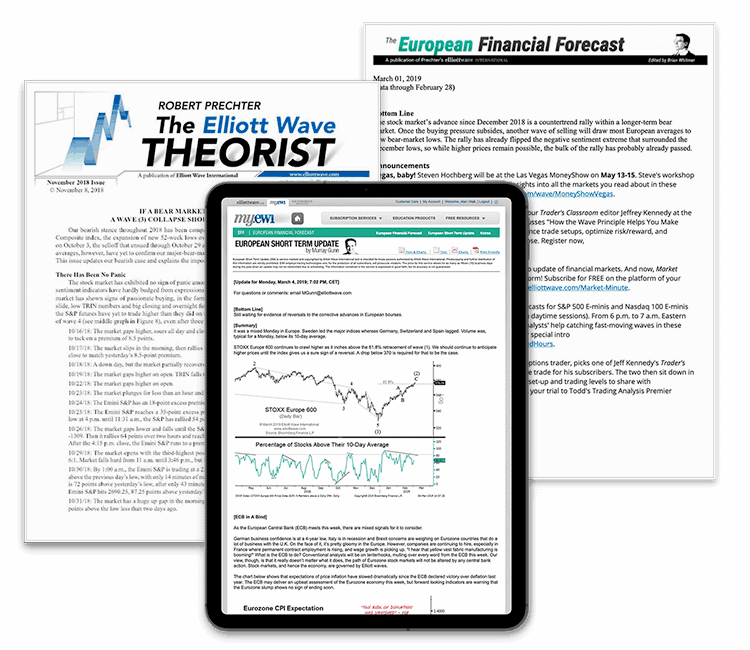 I need forecasts for European markets from the European Financial Forecast Service.
Asian Markets
I need forecasts for Asian markets from the Asian-Pacific Financial Forecast Service.
Fixed Income Markets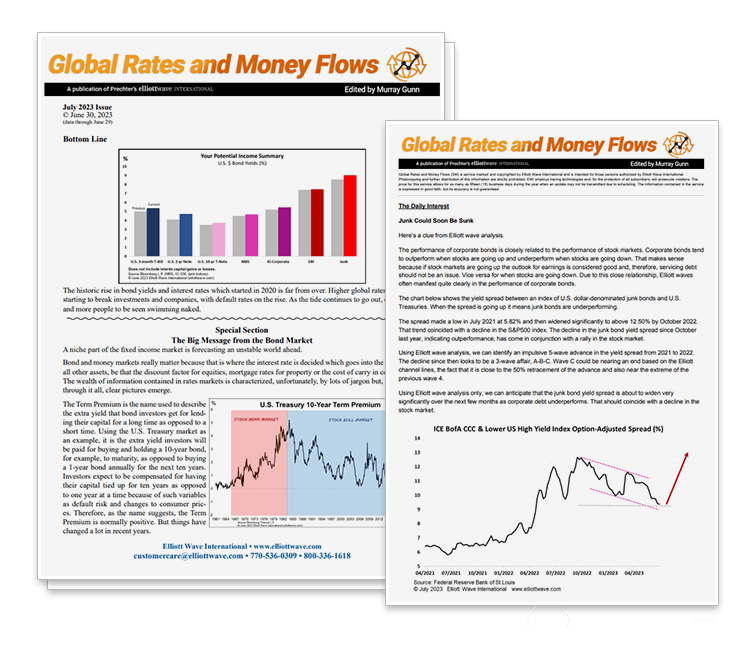 I need analysis of global debt markets, currency trends, and economic insights.
Global Markets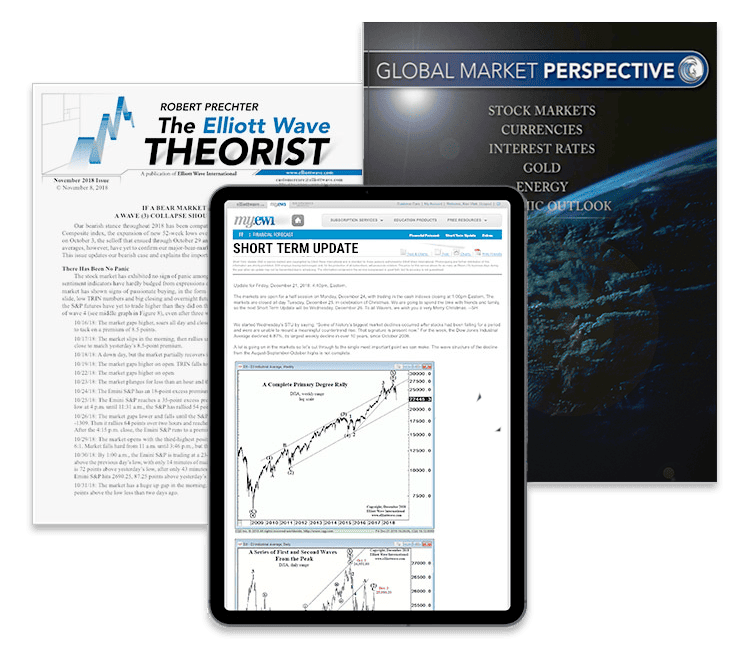 I need clear and actionable analysis and forecasts for the world's major financial markets.
Social Mood
I need analysis of global trends through the lens of social mood for informed decision-making.
Intensive Coverage for Traders
I'm a Professional or Active Trader. I See Volatility as an Opportunity to Ride the Most Powerful Waves.
Pro
Services
Timely, objective, expert analysis throughout the open sessions to help you make smarter trading decisions.
Trader's
Classroom
3 short video lessons per week teach you to look at your charts and see new opportunities like never before.
Crypto Trader's
Classroom
3 new crypto trading lessons per week + current examples of setups in one package.
Flash
Services
Gives you Elliott wave-based alerts the moment such a potential market opportunity arises.
Commodity Junctures
Actionable forecasts for 12+ major commodity markets delivered weekly and monthly.
EWI's 25+ analysts are featured on financial channels including: