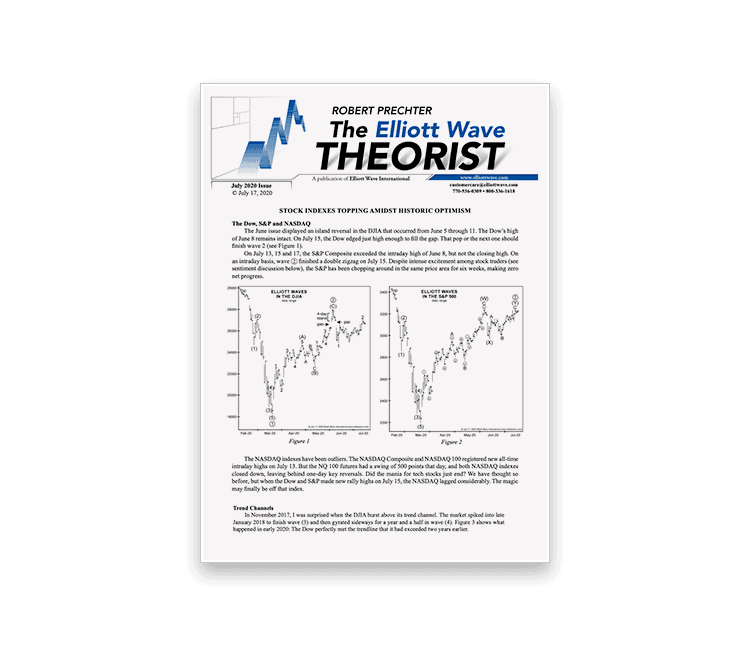 MONTHLY SINCE 1979
The Elliott Wave Theorist
Robert Prechter
Robert Prechter, Elliott Wave International's founder and president, has been publishing The Elliott Wave Theorist continuously, every month, since 1979. Stocks, bonds, credit, debt, inflation/deflation, social trends… the topics you'll see in the Theorist vary. Each month, Bob picks the subject areas subscribers most need to read about right now.
$37
for your first month,
billed quarterly after
You may cancel anytime – and get a pro-rated refund for any unused months.
It all began in 1975…
In the early 1970s, Robert Prechter learned technical analysis by reading books and newsletters and began applying Elliott wave analysis to his handmade charts of the DJIA and gold. In 1975, he joined the Merrill Lynch Market Analysis Department in New York. In 1978, he co-wrote Elliott Wave Principle with A.J. Frost, and in 1980 he issued R.N. Elliott's Masterworks from long-forgotten, original texts he found on microfilm at the New York Public Library.
Elliott's groundbreaking 1938 study carefully showed that stock market trends were not random but patterned. His depiction described what decades later was recognized as a self-affine fractal.
1979: The Theorist launches monthly
In 1979, Prechter left Merrill Lynch and published the first issue of the Elliott Wave Theorist. One of his early forecasts called for a long-term "super bull market." That was in the early 1980s, when the DJIA was bouncing around in triple digits. Bob's bullishness was contrary to the bearish Wall Street consensus.
In 1984, Prechter won the U.S. Trading Championship with a 444% return in four months in a monitored options trading account, which was a record at the time. As Bob's following grew, Financial News Network (now CNBC) named him "Guru of the Decade" for the 1980s. In 1999, Prechter introduced a new paradigm for understanding financial markets in a new book, The Wave Principle of Human Social Behavior and the New Science of Socionomics. The book proposes that naturally regulated waves of social mood prompt social actions that show up as changes in stock prices, entertainment preferences, fashion and political outcomes. His 2006 book, The Socionomic Theory of Finance, delineates the fundamental differences between finance and economics.
Prechter still writes every issue
Prechter writes and edits each issue of the Theorist. You can expect a new Theorist around the middle of each month.
Each new Theorist gives you well-researched, thought-provoking insights that help you gain perspective on today's trends and turns. Often, Bob times a new Theorist with an important juncture in a key market. Between monthly issues, you will get occasional "Interim Bulletins," which Bob releases when there is an urgent market development. Every new Theorist is a compelling read, which explains why it continues to gain new fans every year.
Original, thought-provoking insights — on your screen, once a month
Elliott Wave Theorist readers are a discerning crowd. We look forward to setting aside time each month to have our thinking expanded. Won't you join us?
Most subscribers get The Theorist as part of our comprehensive investor-focused Financial Forecast Service, which we highly recommend. But you can also subscribe to the Theorist alone, at a surprisingly low price.
EWI's 25+ analysts are featured on financial channels including